I have chosen to make my journey with health and wellness public. Sometimes very public. I talk about my down falls, my triumphs, my fears...all of it. I'll tell anyone who will listen. For me it's not about fame or glory, I don't relish in the attention (although it is quite nice, I won't lie) like an attention hungry drama queen, but I do it so I will have someone that will say to me "You can do it!".
On the days when nothing is going right and all I want to do is bury myself in a cheeseburger and wash it down with a pizza, I know that through my blog someone will say "No Tonyne. Just take a deep breath." Or when I am thinking about doing a race I know that someone will believe in me enough that it will give me the courage to register. Living life in balance isn't always easy for me, I walk a fine line every day of going back to my "old ways" of laziness and eating whatever I want. Some days are harder than others.
Sometimes we all just need someone to tell us "You can do it, I believe in you!" Who couldn't use more of that in their life? Take some time today to tell someone that you are proud of them, that you believe in them. It could make all the difference.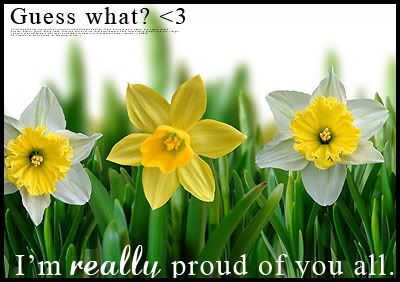 "You need to be aware of what others are doing, applaud their efforts, acknowledge their successes, and encourage them in their pursuits. When we all help one another, everybody wins."
Jim Stovall